"CRESSIDA" Olive Oil Tasting at Douloufakis Winery
Dafnes Heraklion Crete
#CressidaOliveOilTasting
#DouloufakisOliveOilTasting
Taste some of the best extra virgin olive oils of Crete and discover their unique taste.
BOOK NOW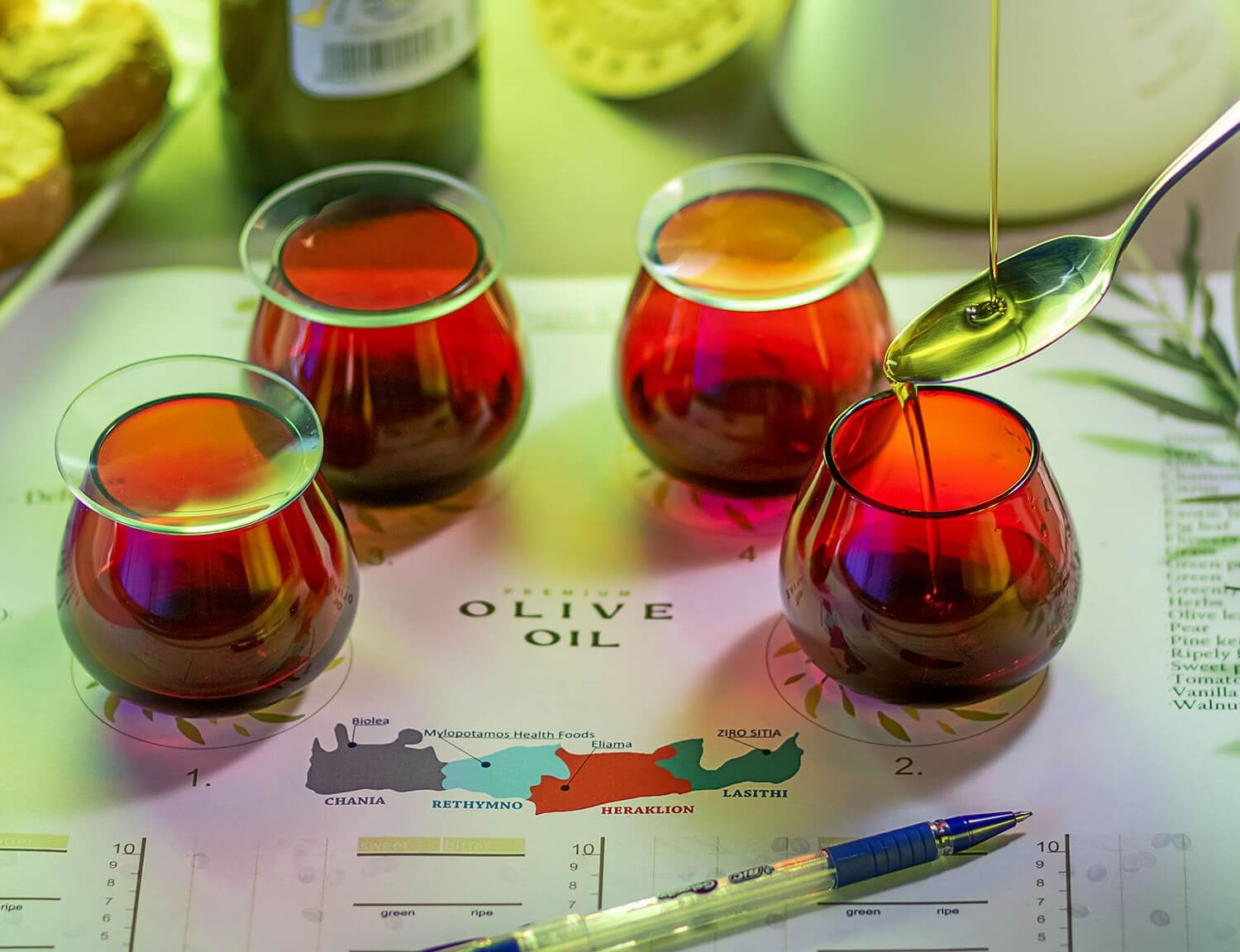 Surprise your taste buds with 3 of the best cretan olive oils and experience the different fruity bitter and spicy flavors. Our certified specialists will be there to answer any of your questions and will provide lots of advice on food combinations. Add a special gastronomic pleasure to your vacation in Crete.
"CRESSIDA" Crete Olive Oil Tasting at the Cellar or the Vineyards of Douloufakis Winery
Why visitors recommend Olive Oil Tasting
at Douloufakis Winery
Douloufakis Winery is located just a few kilometers outside the city of Heraklion, the capital of Crete.
A magical drive to the winery awaits you, with views of vineyards and olive groves.
Learn about the benefits of pure olive oil in our diet and about the ultimate taste combinations at the table.
Travel to Crete with your taste buds, while you taste olive oil from 3 different prefectures of the island.
Experience the traditional cretan hospitality at our winery.
The olive oil tasting is also aimed at our little friends.

WHAT OUR VISITORS SAY ABOUT "CRESSIDA" CRETE OLIVE OIL TASTING
TDGus, The U.S.A,  14/02/2022    
---
Really a very nice experience! Very knowledgeable guide, lots of wine to taste, just a 30 minutes taxi ride from Heraklion, one of our best wine tasting experiences (and we have had MANY) ever. We also found some of their wines back in the US!
Read More TripAdvisor Reviews
Jeni Boteva, Bulgaria,  09/07/2022     
---
We had a wine and olive oil testing. It was very interesting especially olive oil testing, because it was something new for us.
I recommend this Winery and Femina white wine.
Read More Facebook Recommendations
David Moore, U.K.,  05/07/2022    
---
We went for the wine and olive oil tasting. The staff is of really lovely people that are very knowledgeable about their wines. The highlight was definitely the olive oil tasting, as the lady that presented the oils was so great at her job and really helped us understand the complexities of olive oil.
Read More Google Reviews
Discover


DOULOUFAKIS WINES
Fruity | Elegant | Plethoric
We produce and bottle our wines using state-of-the-art technology and suitably trained staff. We produce 21 different wines, mainly dry ones, but also medium-sweet, natural sweet and sparkling.
DISCOVER THE WINES
A few words about the quality
of Olive Oil from Crete
Olive oil is a liquid fat obtained from olives, a traditional tree crop of the Mediterranean Basin, produced by pressing whole olives and extracting the oil. Cretan Olive oil is crafted from age-old olives on Crete island. Extra virgin olive oil is an excellent product with enormous nutritional value. The terroir of Crete is considered ideal for producing high quality olive oil.