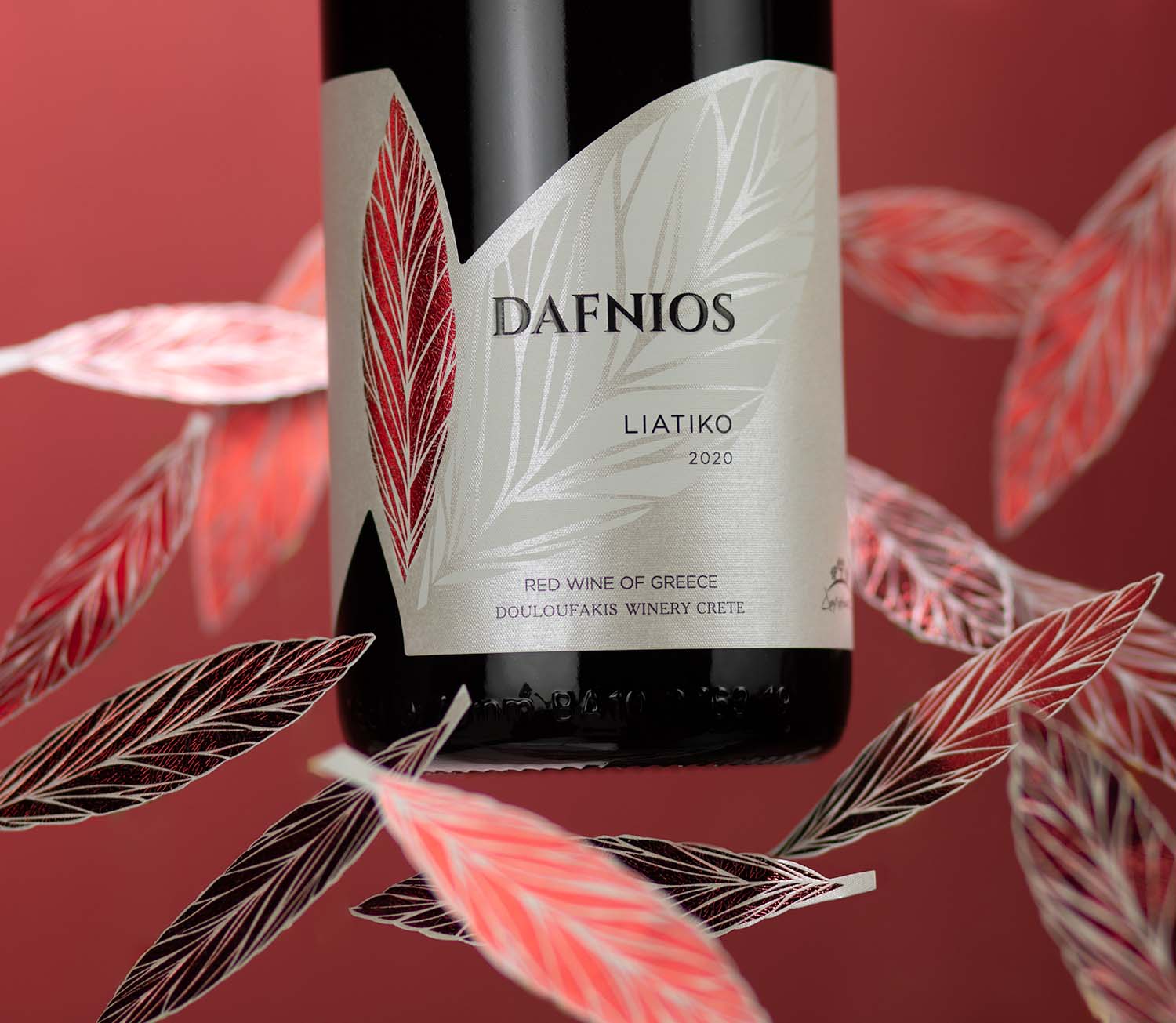 Chic | Fine | Elegant
Liatiko variety gives us delicate and light wines with ruby colour. We suggest you try it in a burgundy shape glass that perfectly unfolds its aromas. It has concentrated aromas of fresh red fruits, herbs and light floral aromas. As it ages, develops a unique bouquet of ripe fruits, leather and spices. It has light body, good acidity, soft and delicious tannins and long aftertaste, traits that portrait it as a very elegant wine.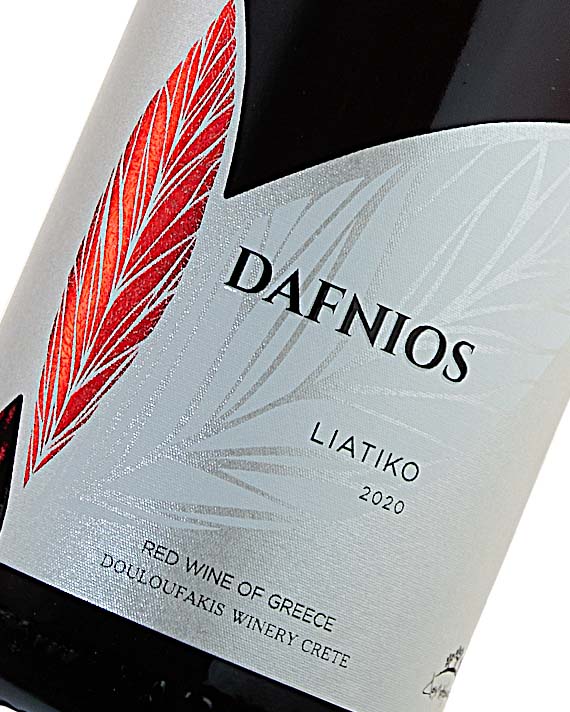 Serving Dafnios Red wine
Should be served at 17°C. This wine could accompany a simple or complex food menu or just a special relaxing moment. A few perfect pairings are anglerfish with sauce armoricaine, pastirma pie (cured meat), light cooked rabbit stew and roasted lamb, that is a traditional Cretan dish.
Follow a recipe
Dafnios Red Wine Vinification
Classic red vinification. The alcoholic fermentation lasts for 3 days at 20°C and then continues at 25°C in stainless steel tanks.
Alcohol: 14.2% vol
Residual sugar: 2.3 gr/lt
Total acidity: 6.2 gr/lt
Total Sulfur: 118 mg/lt
pH: 3.50
The wine matured for up to 12 months in French oak barrels of 1.5t and 3t.
This wine can be aged up to eight years.
Dafnios Red Awards
Dafnios Red Tasting Notes
| Tasted in | Country | Tasted by | Published on | Vintage | Wine tasting notes |
| --- | --- | --- | --- | --- | --- |
| 2023 | U.S.A. | Emily Saladino, Writer, Editor & Recipe Developer | www.wineenthusiast.com | 2019 | Tart cranberry, currants, lemon rind and leather lead the palate of this dry red wine made from Crete's Liatiko grape. The nose is subtle, with red fruits offset by sage and thyme. After vinification in stainless steel, it's aged for nearly a year in French oak barrels. The results are grippy but well-integrated tannins on the long, almost savory finish. |
| 2021 | U.K. | Julia Harding, MW | www.jancisrobinson.com | 2018 | Light to mid ruby. Looks more mature than 2018 but this is typical for Liatiko colour. Like the colour, the aroma is typically more mature than you might expect for a 2018: leathery red fruits, some dried cherry but also a gentle herbaceous freshness. On the palate, this is fresh but also more meaty/savoury, with umami flavours that you would normally get from an older wine but which are, I think, typical at a younger age in Liatiko. Tannins are dry, slightly grainy and firm. Absolutely needs food now but should have a long life ahead. If you are tired of Cabernet, Merlot or Syrah, try this slightly rustic but characterful wine. Even though Liatiko often seems to age quite quickly initially in terms of colour and flavour (if not tannin), it often ages very well in bottle. This and the Dafnios Vidiano would make a great starting pair if you have not yet ventured into Cretan wines. |
| 2019 | U.S.A. | W&S staff | www.wineandspiritsmagazine.com | 2017 | This stresses the sweet purple fruit and zesty acidity of liatiko, but relies on the heat of alcohol for its spice. It's simple and primary, a red for spicy sausages. |
| 2018 | France | Andreas Larsson, Best Sommelier of The World 2007 | www.blindtasted.com | 2016 | Light red ruby colour. Sweet nose of red berries, plum and mild spices with modest oak. Medium weight palate, nice red fruit, digest with good extract, a fresh backbone and a rather long savoury finish. |
| 2017 | U.K. | Julia Harding, MW | www.jancisrobinson.com | 2015 | Light to mid ruby, colour looks quite developed but I think this is typical of Liatiko. Sour-cherry lift but also something a little meaty. Sweet and a little meaty on the palate but I think it is the variety not brett. Somehow old-fashioned but tasty and finishes fresh. |
| 2017 | U.K. | International Wine Competition | www.decanter.com | 2015 | This is an outstanding Liatiko with a complex nose of cherries, leather and savoury notes. Refined, almost silky on palate. |
| 2016 | U.K. | Julia Harding, MW | www.jancisrobinson.com | 2013 | Unusual aroma – sour cherry and a little smoky/rubbery. Meaty and dry on the palate. Firm, dry texture. Packed with personality and flavour – rustic and full of life. Lots of pleasure in a rough and ready sort of way. |
| 2015 | France | Andreas Larsson, Best Sommelier of The World 2007 | www.blindtasted.com | 2013 | Medium deep ruby red. Intense nose with ripe sweet fruit, some earthy and leathery notes. Fresh palate with medium weight and a rounded texture, sweet red berry fruit, mild spices and a medium to long finish. |
| 2015 | France | Markus Del Monego MW, Best Sommelier of The World 1998 | www.blindtasted.com | 2013 | Dark garnet red colour with almost black centre. Well structured nose with slightly balmy character. On the palate firm tannins with a slightly dry finish, restrained fruit and hints of mild spices. |
| 2015 | U.S.A. | Mark Squires, Wine Journalist | www.robertparker.com | 2013 | The 2013 Liatiko Dafnios is all Liatiko, a red grape indigenous to Crete and sourced from vines approximately 30 years old. It was aged for nine months in a mixture of used French oak (80%) and stainless steel (20%). Fresh and pure, this features, sappy, up-front fruit flavor with a nod to Beaujolais, but it also adds a fresh and vibrant feel with mild tannins, some persistence on the finish and a bright personality. It is a lovely red that can and should be chilled down a bit (around 60F works well) and drunk as an uncomplicated sipper. In the short-run, it merely seems ridiculously delicious, yet never cloying and always elegant. Is it worth leaning up for that? If you want thick, rich and powerful, you'll say no. Otherwise, you might think this is one of the nicest values here for an elegant and easy sipper. It may not last long at peak, but it will be an enormous crowd-pleaser. This might hold better than I think, but I do believe it is best drunk young. After that, we'll see where we are when we get there. |
| 2014 | U.S.A. | Mark Squires, Wine Journalist | www.robertparker.com | 2011 | The 2011 Liatiko Dafnios is very graceful with sensual texture. For all of its fruit forward demeanor and elegant feel, it has a certain steely note to it as it airs out that I appreciated. There isn't much concentration here, but it does have some structure, reasonable acidity and ripe tannins. It finishes with juicy fruit laced with a bit of a bitter chocolate nuance. It is a lot of fun. I liked this much better with 30 minutes of air and some coolness. At that point it began to grow on me, demonstrating a bit more substance than I originally thought it had. Drink it on the young side, but it should hold nicely for a few years. Drink now-2019. |
| 2012 | U.S.A. | Mark Squires, Wine Journalist | www.robertparker.com | 2010 | The 2010 Liatiko "Dafnios" is all Liatiko, an indigenous Cretan grape, that is oak aged for 9 months according to the winery's data. It seemed slightly creamy on opening, which is odd because it is anything but. That changed pretty fast. It has a rich fruit nuance and came around nicely in the glass, showing better structure and more purity of fruit, without any cloying traces, losing all the creamy hints. It is pretty sexy in some respects given its fine aromatics and intense fruit flavor, but it cuts that with a little steely purity and enough structure to prevent it from being overly one dimensional. Many like their reds in the lower 60 degrees Fahrenheit anyway, but this is certainly something that should not be drunk too warm. This could grow on me. It is awfully tasty and awfully friendly. I will be interested to see how it develops in the cellar and in other vintages. Drink now-2018. |