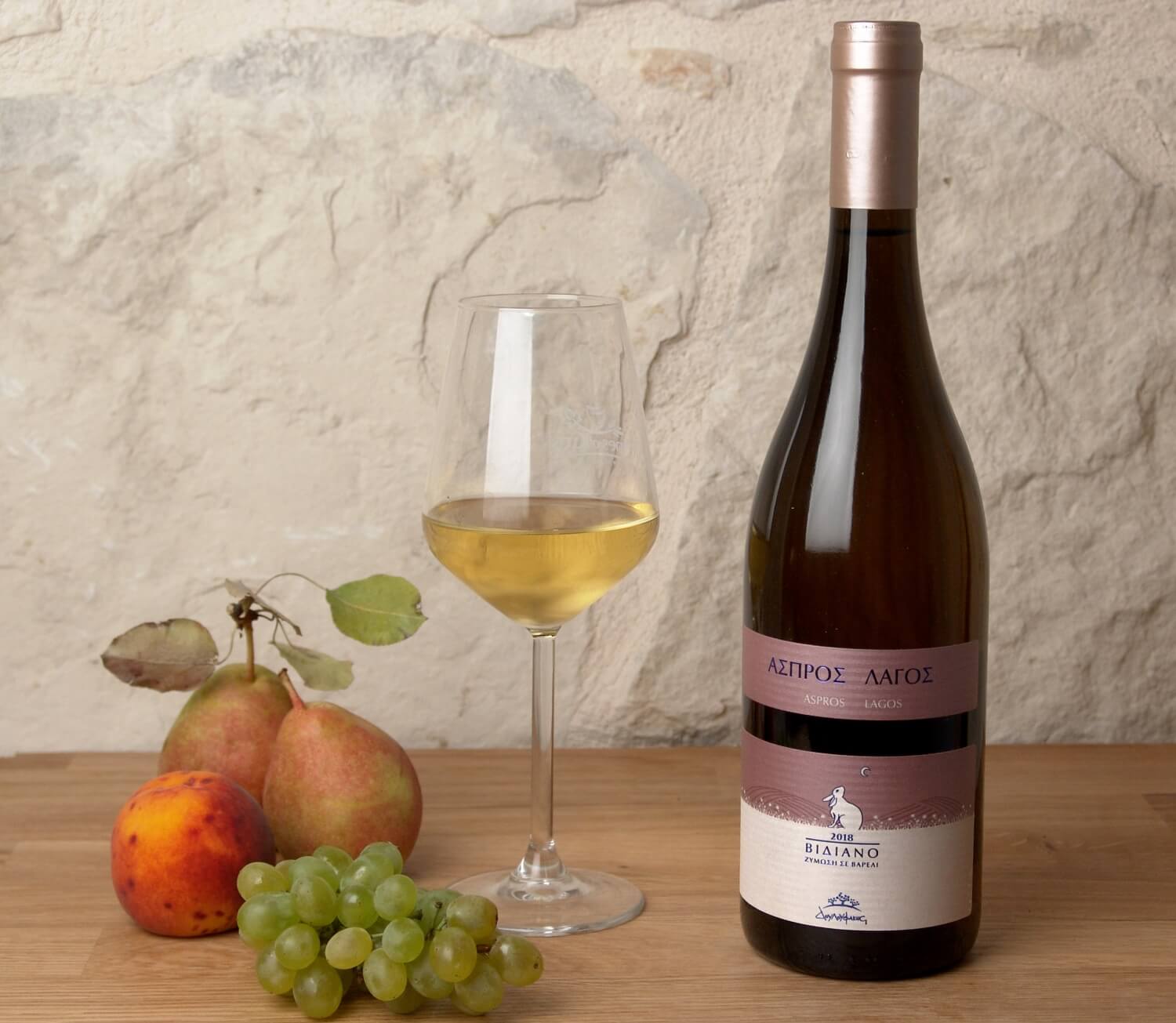 Complex | Concentrated | Vigorous
Very nice golden colour, with green and yellow hues. Its aroma is rich of white flowers and citrus fruits, with a delicate buttery bouquet of a slight beeswax scent, apricot, linden and melon. Rich flavour that, while being aged in bottle, gets velvet, buttery and develops a dense apricot character. You can distinguish a seductive mineral flavour in the background. Superior, long lasting aftertaste second to none, in apricot tones.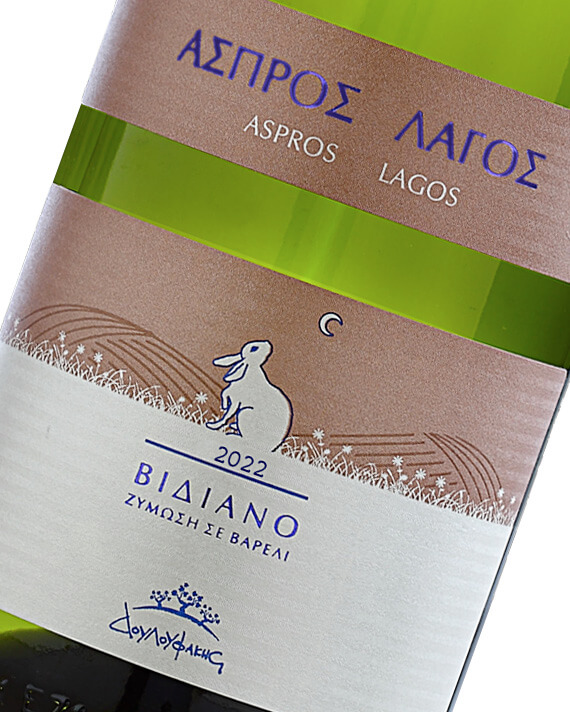 Serving Aspros Lagos White wine
Should be served at 10°C and would accompany well fish, such as grouper, red porgy, common dentex, lobster, grilled scorpaena, turbot and all shellfish, as well as pork with dried fruit and pullet with white sauce and mushrooms.
Brilliant is the combination of this wine with some Cretan traditional dishes, like boiled young goat and pilaf or "lamb with askolibroi (lamb with golden thistle).
Follow a recipe
Aspros Lagos White Wine Vinification
Classic white vinification at 20⁰C, with fermentation in barrels.
Alcohol : 14% vol
Residual sugar: 2.2 gr/lt
Total acidity: 7.4 gr/lt
Total Sulfur: 115 mg/lt
pH: 3.22
The wine matures in new and second use barrels, made of 40% acacia and 60% French oak, for five months.
The wine itself can be aged for 7 years.
Aspros Lagos White Awards
Aspros Lagos White Tasting Notes
| Tasted in | Country | Tasted by | Published on | Vintage | Wine tasting notes |
| --- | --- | --- | --- | --- | --- |
| 2023 | U.S.A. | Emily Saladino, Writer, Editor & Recipe Developer | www.wineenthusiast.com | 2020 | Made from Vidiano, an indigenous Cretan variety, this honey-colored wine expresses citrus and petrol aromas with a faintly buttery undertone that hints at the five months the wine spent aging in acacia and French oak. The balanced palate has lemon and juicy melon flavors balanced by petrol, and a lovely, long-lasting finish. |
| 2021 | U.S.A. | Mark Squires, Wine Journalist | www.robertparker.com | 2016 | The 2016 Aspros Lagos is a Vidiano aged for five months in a 60/40 blend of French and acacia barrels, 40% new. It comes in at 14% alcohol. This is an oldie, but it is one that seems to be in prime time. The wood treatment gives this a somewhat generic feel, but the total package sure tastes great. At this point in its life, it is also gentle and friendly, without much intensity but an easy demeanor. This is a lot of fun, but I'd personally take its Dafnios sibling (which is also less expensive) this issue. |
| 2017 | U.K. | Julia Harding, MW | www.jancisrobinson.com | 2016 | Pale gold. Complex and inviting aroma with cedary oak and a lightly honeyed/resin note. There's plenty of oak influence but the fruit intensity is terrific so that the winemaking is in harmony with it. Serious white, full in the mouth but shapes into a tight clean finish with all that freshness. Very good. |
| 2017 | U.K. | International Wine Competition | www.decanter.com | 2016 | Luxurious oak and stone fruit characters. Creamy with lovely concentration and a vanilla finish; compelling and great value for money. |
| 2016 | U.K. | International Wine Competition | www.decanter.com | 2015 | Buttercup yellow with a lemon, peach and oak bouquet and a juicy, nutty palate. Lots of substance and fairly priced. Another competent rendition of this upcoming varietal. |
| 2014 | U.S.A. | Mark Squires, Wine Journalist | www.robertparker.com | 2013 | The 2013 Aspros Lagos is Vidiano aged for 5 months in wood (80% new, the rest used), matured in a mixture of Acacia (60%) and French oak (40%). Elegant and quite charming, it handles its oak very well – the touch is light – and manages to be relatively clean. Overall, it seems to lack the persistence and freshness, relatively speaking, of the un-oaked (or, more accurately, un-wooded) Vidiano also reviewed this issue. Drink now-2017. |
| 2014 | U.S.A. | W&S staff | www.wineandspiritsmagazine.com | 2012 | Honeysuckle rich and smooth, this is ripe and amply oaked, a modern take on an old Cretan variety. |